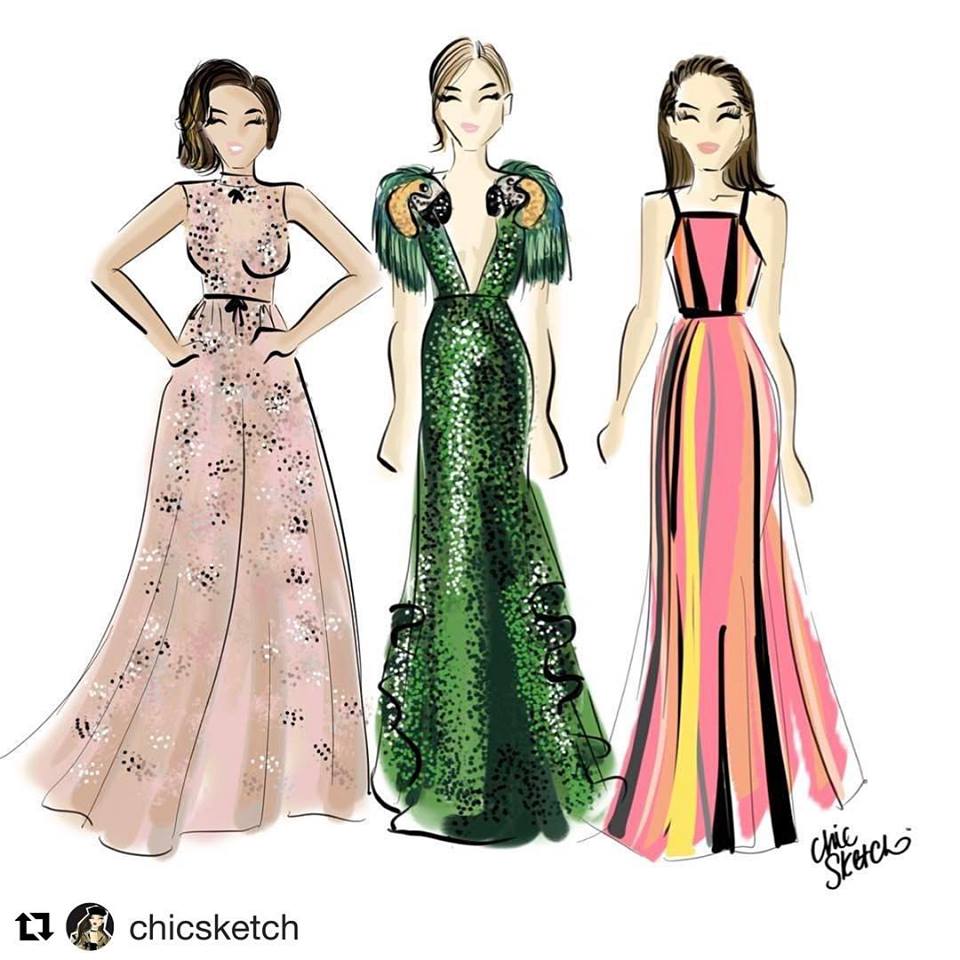 Yesterday we got the chance to hang out with Life & Style for a Facebook Live where we sketched some of our favorite looks from the SAG Awards! We talked about the celebs, the gowns, and the trends. Continue reading to hear Emily's thoughts on it all!
The first look that I loved from the red carpet was Michelle Williams in Louis Vuitton. Michelle was nominated for her performance in Manchester by the Sea. She looked so glam in her sequined and striped number. Stripes were all over the red carpet Sunday night, and will be making a huge appearance in fashion this spring! The next look that we adored was Emma Stone's, who won Outstanding Performance by a Female Actor in a Leading Role for La La Land. Emma wore a black Alexander McQueen gown with flowers and lace embellishments. This flower trend, which I like to call a "garden party", will also be something to look out for this spring. What I loved about Emma's dress was the contrast between the girly flowers and grungy feel of the rest of the dress. Next up was Naomie Harris, nominated for her performance in Moonlight. She rocked a striped jumpsuit down the red carpet. Told you to keep an eye out for those stripes! Kate Hudson also looked fabulous at the SAG Awards. She strutted her stuff in a black Dior cape-dress. The gown had sheer details, sequins, and a flower at the waist. It sounds like a lot going on, but the look was clean and put together! Viola Davis also had a beautiful look Sunday night. Viola was nominated for her role in Fences. She wore a simple Vivian Westwood white gown. I loved how she pulled off this classic look effortlessly! Lastly, Yara Shahidi absolutely killed it in her striped (again!) Naeem Khan creation. Yara was nominated for her role in Blackish. This look is so colorful and vibrant, how can anyone not be infatuated with it?!
The first look I sketched live was Michelle Dockery in Ellie Saab. Michelle also sported a striped look. The most important thing about sketching striped outfits is that you really want to make sure to go with the flow of the fabric. Sometimes the stripes can end up looking a little flat, so using the flow of the fabric as a guide will be a big help! If you want to try wearing stripes, I recommend trying them in a vertical pattern. This will help to elongate your figure so you can look your best! Remember to try on everything, even if you are unsure about the pattern, because most times the garment looks better on a person than on a hanger!
The next sketch I did was of my favorite dress from the night! Taraji P. Henson looked flawless in her nude/dusty rose ball gown by Reem Acra. This look has so many different components to it, which is what made it so fun to draw. The gown was sheer with lots embellishments, which made it look like a constellation of stars! Embellishments are also another huge trend for spring. Keep an eye out for things like embroidery, patches, and other small details. Great ways to incorporate these into your look are with bodysuits under jeans, as well as embellished jackets! I love sketching Taraji because she always has a fun look and tons of sass!
Last, but far from least, I sketched Nicole Kidman. I had been looking forward to sketching this all day! It's so different and out there I couldn't wait to try my hand at it. Nicole was dressed in a vibrant emerald Gucci gown. What made this dress so interesting was that it had parrots, made out of sequins and feathers, on the shoulders. This look had all the trends in packed into one dress, with sequins, ruffles, and fringes, oh my! Of course, the best part about creating this sketch was drawing the parrots! I love whenever I get to try drawing something new that I haven't done before!
One thing to keep in mind is that these are sketches, which means they do not have to be perfect. If perfect is what you're going for, you will never finish the sketch! My advice would be to try your best, and don't think too hard into it. These small imperfections are what make the sketch great! I'm so glad I have this platform to inspire others to get into sketching. You can learn more of my sketching tips and tricks by checking out the full video at https://www.facebook.com/LifeStyleWeekly/videos/10154232985538344/
Don't forget that if you want your own sketch of yourself you can download the Chic Sketch app for free at www.chicsketch.com. You can also learn how to draw your own 5-minute sketch from my book, Sketch and Go, from www.chicsketch.com/sketchandgo.