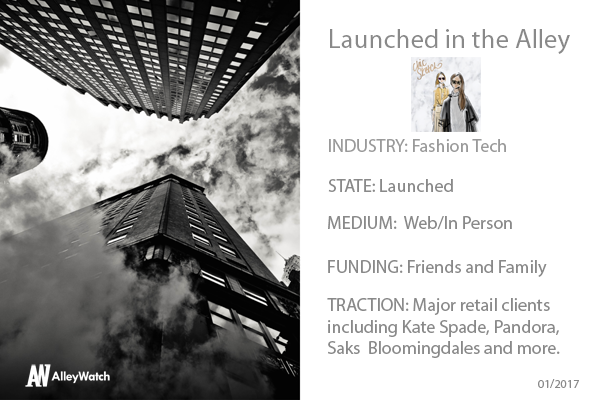 People pay hundreds of dollars for sketches of themselves, which generally end up in the garbage or lost in the attic.  The new app 
Chic Sketch
, takes sketching digital and lets you send a picture to a fashion illustratorthat will draw a shareable social-friendly portrait. The illustrations are quickly made, fashionable, aesthetically amazing, and most importantly – perfect for Instagram. The next time you want a sketch that will not end up in the garbage, take a look at Chic Sketch.
AlleyWatch chatted with Emily Brickel Edelson about the company's origins and how they plan to expand.
Tell us about the product or service.
Chic Sketch, named "One of Today's Most Interesting Fashion Apps" by Vogue España, is a mobile fashion application and live events service where users upload a photo or strike a pose and receive a custom sketch drawn by a real fashion illustrator. Since February 2015, Chic Sketch has partnered with over 50 luxury and international brands in fashion, beauty, fragrance, technology, and media and our sketches have reached millions of viewers around the world.
How is it different?
Chic Sketch is unlike any other mobile app on the market today. It brings fashion illustration to the masses, all hand drawn by real illustrators. Chic Sketch also partners with big brands to incorporate social media-ready viral marketing strategies to bring brand awareness, excitement, and delight to the consumer's user experience.
What market are you attacking and how big is it?
We are targeting females ages 15-35 interested in fashion, weddings, and illustration. This represents a multi-billion-dollar industry.
What is the business model?
The app is free to download, where normally it would cost hundreds of dollars to get a custom fashion illustration, we break it down into a quick 5-minute sketch at $9.99 each. Users can upgrade for another $4.99 to get a high-resolution version and / or another $4.99 to jump to the front of the line. For live events, we charge a separate fee.
What inspired the business?
As a fashion illustrator I would get booked to sketch on paper at live events and Jordan my husband and owner of the digital agency Appetizer Mobile would come support me at these events. Jordan saw how excited people were when they received their sketches and the strong emotional connection they had. Everyone was immediately snapping photos of their sketch, sharing it to social media and showing it off to the line of waiting guests. There were a lot of ooh's and ahh's and Jordan realized this was something they had to bring to the masses through a mobile app.
With Fashion Week coming up, what are you plans?
We have some exciting collaborations that we are currently working on and we will be sketching a variety of high-profile fashion shows. We will be providing a lot of exclusive content in our Chic Sketch app and cross our social media channels so stay tuned!
What are the milestones that you plan to achieve within six months?
We plan to expand our partnerships and collaborations, introduce new product lines under our merchandising shop, and continue to roll out unique features and experiences for our users.
What is the one piece of startup advice that you never got?
That determining the best way to scale a business takes time and has to be based on an agile strategy. Walking before running in a startup is important so you can make calculated decisions and not hastily select a path that's unsustainable.
If you could be put in touch with anyone in the New York community who would it be and why?
We like to connect with the New York fashion technology venture community. As we grow and expand we want to make sure we have the right capital partners working with our brand.
Why did you launch in New York?
We grew up in New York and are based in NYC, it is arguably the fashion capital of the world and provides a strategic advantage because of the resources, networks and talent that we can pull from here! And, because we love it!
What's your favorite restaurant in the city?
Vandal and Bodega Negra are our favorites. We love the artistic street vibe of Vandal, but are suckers for great Mexican food at Bodega!
Read the entire article at: http://www.alleywatch.com/2017/01/this-nyc-startup-will-make-you-look-glamorous-for-eternity/