It's Finally Here!!!
I'm so excited that my first book Sketch and Go: 5 Minute Fashion Illustration is HERE! If you've ever wanted to draw fashion illustration but don't know where to start – whether you are a beginner or an advanced artist –  it can be hard to get out of your own way.
This book teaches you how to overcome the fear, stop judging yourself and teaches you how to get in the zone to create amazing fashion sketches. You will learn how to cultivate your inner artist, how to navigate through stress when sketching under pressure and produce your best works yet!  Plus, you will learn how to get how to develop your own style and get pro tips and tricks directly from me, Emily Brickel Edelson with my insider experience sketching live in front of hundreds of people, backstage or front row at fast pace fashion shows in the fashion industry!
In this book not only I will teach you the basics of fashion illustration, how to sketch all kinds of faces, hands, hair, garments and accessories but I will guide you through creating quick full body sketches and the secrets that I have learned working with big brands to master the ultimate 5-minute fashion sketch.  You get my 10+ years of professional experience and more. If you are looking to launch into the fashion illustration business – or just want to start a new hobby –  this book is for you!
On top of all that, you will get 500 fashion illustration templates ready to sketch on. It is printed in special disappearing ink so only your work will show through the templates when you photocopy or scan it.
Be sure to mark your calendars for a book signing and meet and greet on October 25th and RSVP to msturm@rubensteinpr.com!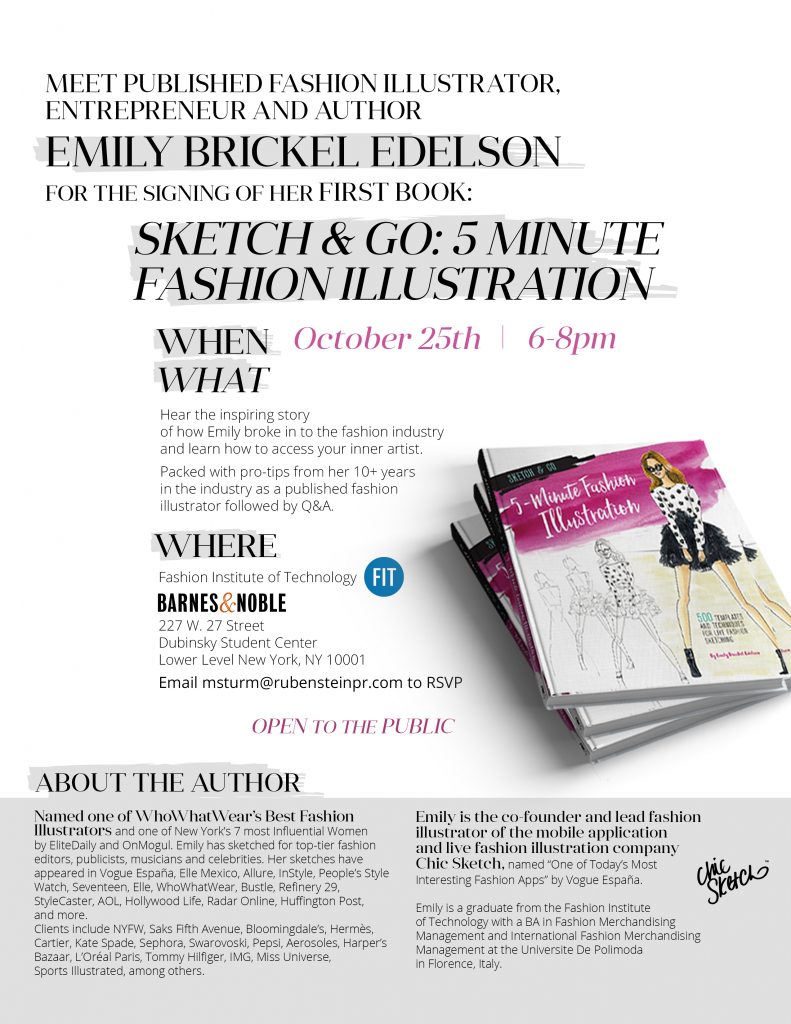 From the co-founder of Chic Sketch, Emily Brickel Edelson is a published fashion illustrator and entrepreneur. Named one of "Today's Best Fashion Illustrators" By Who What Wear and one of New York's 7 Influential Women by Elite Daily and OnMogul.
Find out more about Emily at www.EmilyBrickelEdelson.com
What are you waiting for? Get sketching – Click here to get your book now!
www.EmilyBrickelEdelson.com/book or www.ChicSketch.com/sketchandgo