After taking a mid-week break, Emily and her crew sat out for NYFW day 3 to prep for days ahead. The intermission was much needed especially because NYFW day 4 was the definition of action-packed! From meeting TikTokers and Youtubers at Spring Studios to sitting front row at Greedilous by Tilda, the energy couldn't be better.
Aknvas
Emily and her fashion week crew were invited backstage to see Christian Juul Nielsen's collection up close and personal before the start of the presentation. Aknvas, the genderless collection, was filled with unique features such as fringe, puff sleeves, bustier tops and extravagant textures. Not to mention the outstanding color palette that completely brightened New York after the big snowstorm. Christian Juul Nielsen, who is no stranger to the fashion industry, explained to Vogue that the collection was "framing my couture background but there's something chill about it". After looking at the intricate knits and statement outerwear, it's obvious that the designer was inspired by comfort.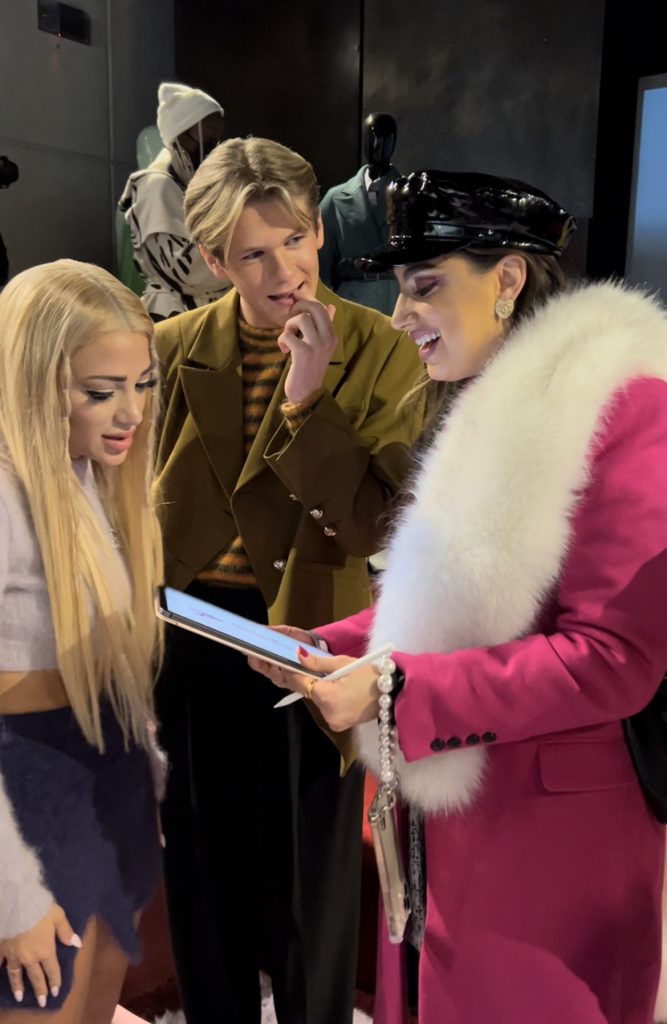 At the presentation, Emily and her crew had the honor to meet Davis Burleson. Davis is quite known on FashionTok for his show "What's Poppin?". The crew also met Gabi Demartino who is a popular fashion and beauty YouTuber. Emily had a great time sharing her sketches with the two influencers and getting to know them while being surrounded by Christian's fabulous designs.
Greedilous By Tilda
Later that night, Emily and her crew watched the Greedilous By Tilda runway show in awe. Greedilous, a fashion brand in South Korea, filled the runway with super fun colors, insane puffer jackets, and an overall futurist vibe. YounHee Park put on an amazing show that featured Tilda. According to Park via a press release, "Tilda was created through LG AI Research, originally launched with the simple goal of building a true playground for AI scientists and advancing AI technology for a better life." Tilda introduced the show on the screen and ended the show as well. The designer put on a mesmerizing show all while dipping her feet into the metaverse.
Emily had so much fun sketching the Aknvas and Greedilous By Tilda shows! Check out @ChicSketch and @EmilyBrickel on Instagram to see more sketches and follow Emily's NYFW 2022 journey in our NYFW highlights! Don't forget to follow Emily on TikTok to watch her NYFW recaps.